---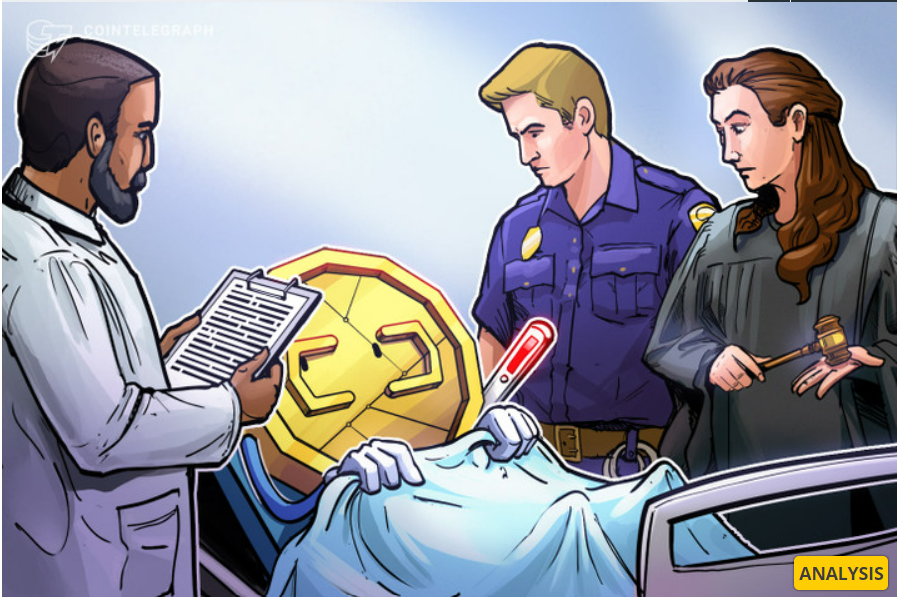 ▲圖片標題(來源:cointelegraph)
The past week has been a dark period in the history of crypto, with the total market capitalization of this industry dipping as low as $1.2 trillion for the first time since July 2021. The turmoil, in large part, has been due to the real-time disintegration of Terra, a Cosmos-based protocol that powers a suite of algorithmic stablecoins.
Approximately a week ago, Terra (LUNA) ranked among the 10 most valuable cryptocurrencies in the market, with a single token trading at a price point of $85. By May 11, however, the price of the asset had dropped to $15. And, 48-hours on, the token has lost 99.98% of its value currently trading at a price point of $0.00003465.
Due to ongoing collapse, Terra's other associated offering, TerraUSD (UST) — an algorithmic stablecoin pegged to the United States dollar in a 1:1 ratio — has lost its peg to the dollar and is presently trading at $0.079527.
The Terra ecosystem explained
As highlighted above, the Terra protocol is driven via the use of two core tokens, namely UST and LUNA. Network participants are afforded the ability to mint UST by burning LUNA at the Terra Station portal. Simply put, one can envision the Terra economy as being one that consists primarily of two pools: i.e. one for TerraUSD and one for LUNA.
In order to maintain UST's value, the LUNA supply pool either adds to or subtracts from its coffers such that clients are required to burn LUNA in order to mint UST and vice versa. All of these actions are incentivized by the platform's algorithmic market module making UST's functional framework substantially different from that of its closest stablecoin rivals Tether (UDST) and USD Coin (USDC), both of whom are backed by fiat assets directly.
To better illustrate the working of UST (or algorithmic stablecoins in general), it would be best to make use of a simple illustration. Say, for example, the value of UST lies at $1.01, then users are incentivized to make use of Terra's swap module to trade $1.00 worth of LUNA for 1 UST, thereby allowing them to pocket a net profit of $0.01.
Now, when the tables are turned and UST dips to $0.99, network users can do the exact opposite, causing the protocol to disallow some users from being able to redeem $1.00 worth of UST for $1.00 worth of LUNA. This once hypothetical scenario is now a living reality, resulting not only in the disintegration of the Terra protocol but also in maligning the reputation of the crypto industry in the eyes of investors all across the globe.
Damage control but to no avail
As soon as LUNA and UST went into freefall earlier this week, the protocol's co-founder Do Kwon released a series of tweets announcing remedial measures to contain any further bleeding. As a preliminary step to counter UST's decoupling with the dollar, Kwon reinforced the burning of UST, something which we now know in hindsight failed to work.
Kwon claimed that by increasing the base pool from 50 million to 100 million special drawing rights (SDR) and decreasing PoolRecoveryBlock from 36 to 18, the protocol's minting capacity could potentially be bumped up from $293 million to a whopping $1.2 trillion.
Simply put, by deploying the aforementioned changes, the Terra team was afforded the ability to mint four times more UST out of thin air, a process that is now being jokingly being referred to as Kwontative easing. Providing an expert take on the matter, Jack Tao, CEO of cryptocurrency exchange Phemex, told Cointelegraph that looking back now, the disaster signals surrounding UST and LUNA had been there for quite some time.
For starters, he believes that the general idea surrounding algorithmic stablecoins in itself is quite flimsy since these offerings lack any sort of actual backing asset. Secondly, the Luna Foundation had recently been making a lot of noise, as Do Kwon announced he was going to be purchasing a total of $10 billion in Bitcoin (BTC) to serve as UST's reserves. In this regard, Tao added:
"These purchases resulted in an oversupply of UST, which started falling rapidly once sell pressure began to mount on LUNA and then subsequently on UST. Once this selling happened, the Luna Foundation Guard had to offload its Bitcoin to maintain the peg. But, the reflexive sell pressure continued and all of the involved assets began to drop hard."
轉貼自: Cointelegraph
若喜歡本文,請關注我們的臉書 Please Like our Facebook Page: Big Data In Finance