摘要:
Elon Musk offered to buy Twitter for $54.20 a share, or about $43 billion.
---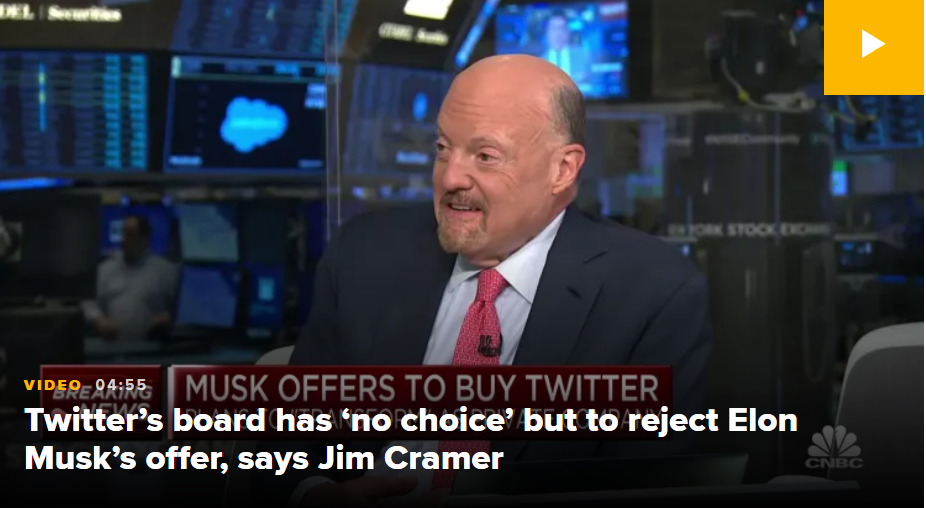 ▲圖片標題(來源:CNBC)
Elon Musk offered to buy Twitter for $54.20 a share in a filing published Thursday, saying the social media company needs to be transformed privately, a little over a week after revealing a 9.1% stake in the company. Musk's offer values Twitter at about $43 billion.
"I invested in Twitter as I believe in its potential to be the platform for free speech around the globe, and I believe free speech is a societal imperative for a functioning democracy," Musk wrote in a letter sent to Twitter Chairman Bret Taylor and disclosed in a securities filing.
Twitter shares closed down 1.68% on Thursday. Tesla's stock dipped more than 3.6% on the news.
According to Musk, the social media company needs to go private because it can "neither thrive nor serve" free speech in its current state.
"As a result, I am offering to buy 100% of Twitter for $54.20 per share in cash, a 54% premium over the day before I began investing in Twitter and a 38% premium over the day before my investment was publicly announced," he wrote. "My offer is my best and final offer and if it is not accepted, I would need to reconsider my position as a shareholder."
Musk tapped Morgan Stanley as a financial advisor, according to the filing. He claimed later on Thursday during a talk at TED2022 that he isn't interested in acquiring Twitter to make money off it and even said he's not sure if he'll even be able to buy the company.
"This is not a way to sort of make money... it's just that I think my strong, intuitive sense is that having a public platform that is maximally trusted and broadly inclusive, is extremely important to the future of civilization," Musk said at TED2022. "But yeah, I don't care about the economics at all."
He also said during the talk that he would try to retain as many shareholders as possible for a private company.
The news comes just days after Twitter CEO Parag Agrawal warned investors of "distractions ahead."
"The Twitter Board of Directors will carefully review the proposal to determine the course of action that it believes is in the best interest of the Company and all Twitter stockholders," the company said in a statement Thursday in response to the offer. CNBC's David Faber reported on "Squawk on the Street" that Twitter's board will meet at 10 a.m. to evaluate the bid, per people familiar.
轉貼自: CNBC
若喜歡本文,請關注我們的臉書 Please Like our Facebook Page: Big Data In Finance